In the fight to reduce the transmission and infection rates of COVID-19, many companies have been 'stepping up to the plate' to make a difference in winning the battle in this global pandemic. But certain companies are going above and beyond the call of duty by making major changes to their operational efficiencies to help stem the coronavirus tide.
One such company is Vancouver, BC-based Micron Waste Technologies Inc. (MWM) (CSE.MWM, OTC: MICWF, Forum) – a leading developer of waste treatment systems for food and cannabis waste. The Company's onsite treatment system turns organic waste into clean water, with solutions to handle specialized organic waste generated by cannabis cultivators, food producers, food operators, hotels, and more.
The Move to Manufacturing PPEs
On April 20th, Micron announced that it has entered into a Letter of Intent (LOI) to acquire COVID Technologies – a manufacturing company dedicated to the manufacture of personal protective equipment in response to the current coronavirus pandemic. In the nearly six months since that announcement, the Company has made a commitment to manufacture and deliver state-of-the-art facemasks and other Personal Protective Equipment (PPEs), the Company reported it had met the American Society for Testing and Materials F2100 – 19 Standard Specification for Performance of Materials Used in Medical Face Masks (ASTM F2100 Standards) Level 3 Certification requirements for its three-ply surgical face masks.
The Company, through its Micron Technologies division, is manufacturing its facemasks pursuant to its Medical Device Establishment License (MDEL) approved from Health Canada. The MDEL permits Micron Technologies to manufacture Class I products – including facemasks, at the Company's facility in Delta, BC – and is issued by the Federal Ministry of Health in accordance with the Medical Device Regulations of the Food and Drugs Act.
Among other technical specifications, the ASTM Level 3 Requirements ensure "that medical face masks have a bacterial filtration efficiency of greater than or equal to 98 percent, which is the highest level of performance under the ASTM F2100 Standards. Both Health Canada and the United States Food & Drug Administration recognize the ASTM F2100 Standards."
Most recently, Micron announced that is had commenced shipment of its first order of three-ply, medical-grade facemasks to a Greater Vancouver municipality and has submitted bids to provincial government tenders.
Mr. Harvey Sidhu, President of Micron Technologies commented on the landmark achievement:
"Now that we have met the ASTM Level Three Requirements and our three-ply medical mask manufacturing assembly line is operating at full capacity, we will focus on marketing our products to provincial and municipal governments, as well as corporations. Supply of medical grade face masks is currently constrained, and we hope to have success with the government tenders across Canada and United States. We have submitted several provincial government bids that we believe are very competitive and we hope to have success with several of these bids in the coming weeks."
Investor Update
Micron's good deeds, good business practices, and good management decisions have not gone unnoticed by shareholders and investors. The Company's past 30-day performance has seen a share price increase of plus 50%.
Micron Waste Technologies Inc. continues to demonstrate that best practices can translate into best-in-class.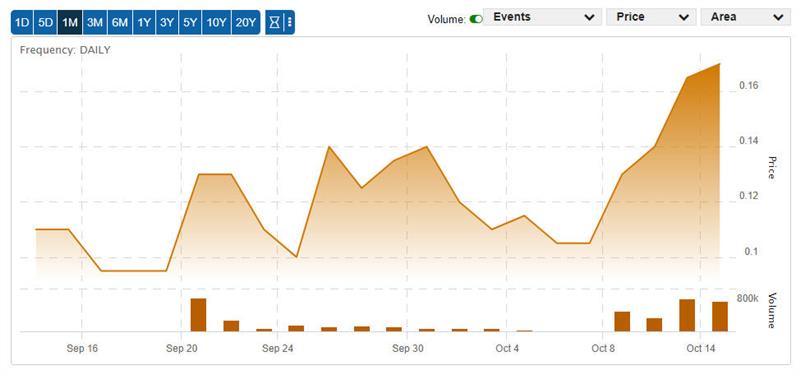 (CSE.MWM stock chart Sep. – Oct. 2020. Click image to link to chart)
About Micron Waste Technologies
Micron is a well-financed industrial-technology company with a manufacturing facility based in Delta, British Columbia. The Company is developing its Organivore and Pharmavore waste digesters using its advanced proprietary technology. The Company, through Micron Technologies, is also developing capacity to manufacture Made in Canada facemasks and Personal protective Equipment.
For more information, visit www.micronwaste.com
FULL DISCLOSURE: This is a paid article produced by Stockhouse Publishing. The Company is not making any express or implied claims that its product has the ability to eliminate, cure or contain the Covid-19 (or SARS-2 Coronavirus) at this time.

Current Location
Located at: Seattle
Meet Lida…
Sed bibendum massa id luctus cras et lorem feugiat.